We are the
No 1 PhD Consultancy
in South India
We help
20+ students register for PhD every month
8 Pitfalls to avoid while applying for Ph.D.
Keen on pursuing Ph.D. Here are few pitfalls you need to avoid while applying for your Ph.D.
1.Consultancy absconding after receiving payment
There have been many instances where an applicant makes all the payment only to find out that the consultant absconded with the money

Tip: Such instances can be avoided by checking the credibility of the firm by calling partnered universities and enquiring with references.
2. Consultancy sending fake certificates
One of the problems faced by Ph.D. students is receiving fake certificates. Few firms engage in such fraud.

Tip: Students must be proactive, verify the firm's credibility. Speak to previous students and understand the whole process. Students should always collect certificates from university, not from the consultancy firm.
3. A difference of Opinion with the Guide
One of the common problems faced by Ph.D. students is rift with their supervisor. Who acts as Boss, Mentor, and Friend, which is challenging to maintain. Hence after a while, disagreements surface, and some students feel to defer immediately in opinion.

Tip: A supportive network of Ph.D. students around you help you navigate these challenges, and familiarity with the faculty helps you canvas more option and sort out the difference. It is advisable to carefully select the university, as guide allocation depends on universities.
4. Work-life Balance
Pursuing a Ph.D. as a working professional can be a challenging job. Managing research work along with classes and examinations can at times become hectic and students tend to discontinue the Ph.D. course midway.

Tip: Ph.D. Students should always remember to achieve sustainable success; it is essential to have a work-life balance. A healthy social life, family time, self-care and other activities will be fun and are likely to make you happier. A student-friendly university should be preferred while pursuing a Ph.D.
5. A 3 yr. Ph.D. can be dragged for more than 6 yrs. due to abstract not being accepted etc
It is a well know phenomenon wherein Ph.D. students start having blues, after having an initial high of being a Ph.D. student the morale slumps causing them to experience these blues.

Tip: It's best to keep yourself busy with a project and don't overthink if you still feel you are not enjoying the work and seek help from mentors, present in a conference, try new things to boost your morale. Choosing the correct consultancy firm can make sure a smooth process without delay.
6. Thesis not getting accepted for Publication
To achieve success in Ph.D., you need lots of enthusiasm, optimism, and dedication. It is a five-year-long project probably longer than we think. There are highs, and there will times when you feel nothing is going your way and that everything you do fails.

Tip: Keep your self motivated by maintaining a work-life balance, take sufficient breaks, engaging, and rewarding. Start working on small tasks and completing it. Selecting university carefully gives the benefit of interaction with professors and industry experts, this boosts student's morale and will be helpful in getting a diverse perspective.
7. Too many visits to University needed and their Workplace doesn't give that many days off
If Ph.D. Students have a supportive department and mentors, they have a schedule and appointed tasks basis no. of hours, grading, lecturing, and focusing on what it takes to get done and quickly finishing it in the best interest of time.

Tip: One should see their research program as a full-time job. If you want to take a sabbatical or break, it has its pros and cons that may be considered that. The student should select a university that is flexible and give remote access to students for the viva, presentation, etc.
8. The panel asks for bribes
One of the major issues faced by students can be bribes asked by consultants or panel members.

Tip: If the panel is asking for a bribe, DON'T PAY. escalate the issue to the authorities, if required, take external help. Many times higher authorities support the candidates and help with another panel from different universities of necessary. If this process is not working fine, raise the issue to the HRD. But in the entire process, remain calm and poised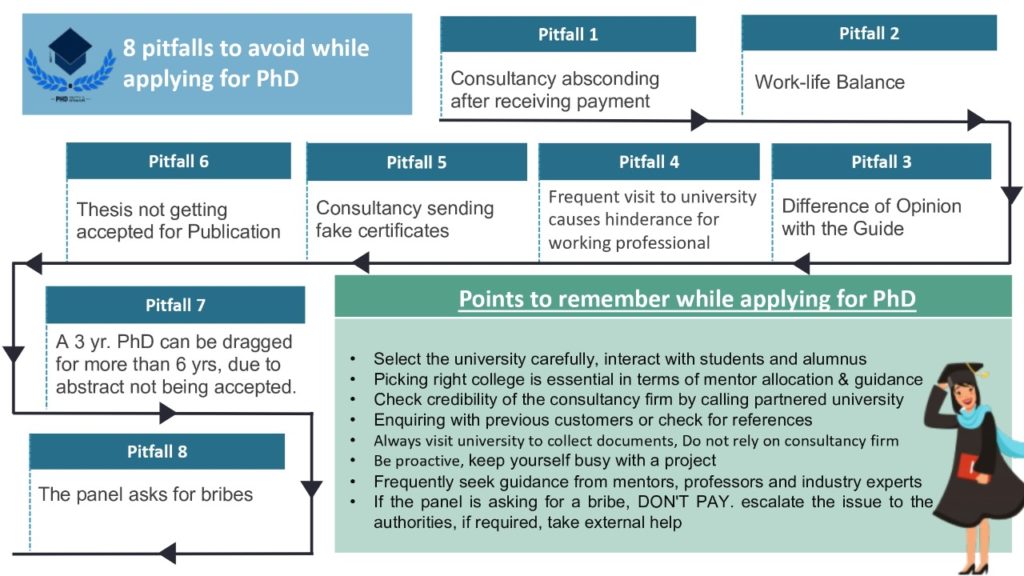 For brochure with pricing details, please mention your contact details below and we will get back to you. Alternatively, you can also call us at +91-8130872449. If that number is busy, you can reach us at 91-9160743777 [Hyderabad] or +91-7411845787 [Bangalore]