We are the
No 1 PhD Consultancy
in South India
We help
20+ students register for PhD every month
How to present your Ph.D. research at the conference at your University
As Ph.D. student you many come across situations where you will have to present your research at conference. we bring you few points to remember while presenting your research.
Adherence to Time Limit
A paper presentation session usually last for 20-30 min. Practice your pitch in advance while paying attention to time constraint. Keep some extra content ready in case your time extends.
Stay Confident
In order to gain audience's confidence, you should portray yourself as confident. Always introduce yourself, opening of our presentation should be exceptional as you will have to gain your audience attention in 20-30 seconds.
Use Visual Aids
Visuals such as PowerPoint presentation can be helpful in gaining audience attention. Emphasise on structure of the presentation, fonts and every slide should consist your name
Feedback
Ensure to practice your pitch and once you prepare your deck take other's feedback. This will avoid any presentation errors
Be relevant
Follow thumb rule of 1-2 idea per slide. Focus only on relevant topic. Building story around it is the key for successful presentation. Be prepared for Q&A session in advance
Clear and concise content
Presenting at a conference is an essential part of the Ph.D. program. Students should always design content keeping the target audience in focus, It should be simple and straight forward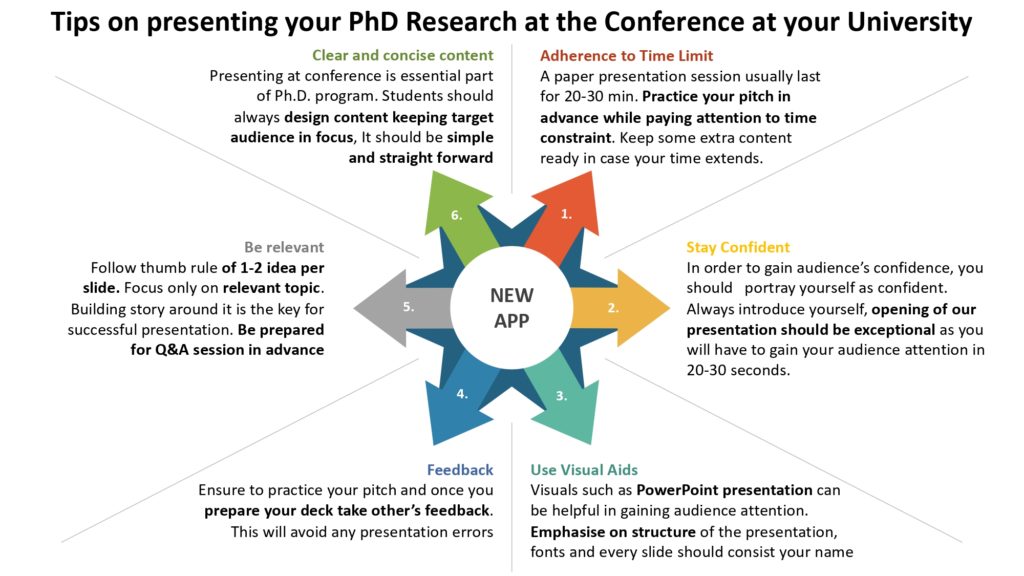 For brochure with pricing details, please mention your contact details below and we will get back to you. Alternatively, you can also call us at +91-8130872449. If that number is busy, you can reach us at 91-9160743777 [Hyderabad] or +91-7411845787 [Bangalore]