We are the
No 1 PhD Consultancy
in South India
We help
20+ students register for PhD every month
Tips on clearing your Ph.D. viva with flying colors
Being a Ph.D. student or while planning to pursue Ph.D. students struggle with viva and worry about clearing it. We bring you tips to keep in mind while appearing for viva.
Be aware of institute policies
Policies vary across various university. It is advisable to find out who your panel members would be and their domain of expertise
Re-read thesis & keep track of research
You are expected to be expert of the research you conducted; therefore one should always check any recent paper publish in same domain and be thorough with your thesis.
Prioritising what you will defend and what you wont
No research is perfect. But as Ph.D. student you should carefully consider what you will defend to hilt your viva. Its crucial to defend your claims on originality of your research.
Mock Viva
Its always helpful to prepare set of expected question and prepare for them. Examiner always prepare question based on your thesis. Practicing would lead to perfection
Prepare for ice-breaker
Students tend to forget about begging of the viva. As this makes or breaking point. It can be helpful of students prepare for 5 min ice-breaker
Focus on findings and contribution
It is advisable that you bring focus of your examiner toward the contribution you have made to the subject. Be clear on what's your contribution and how you present it to examiner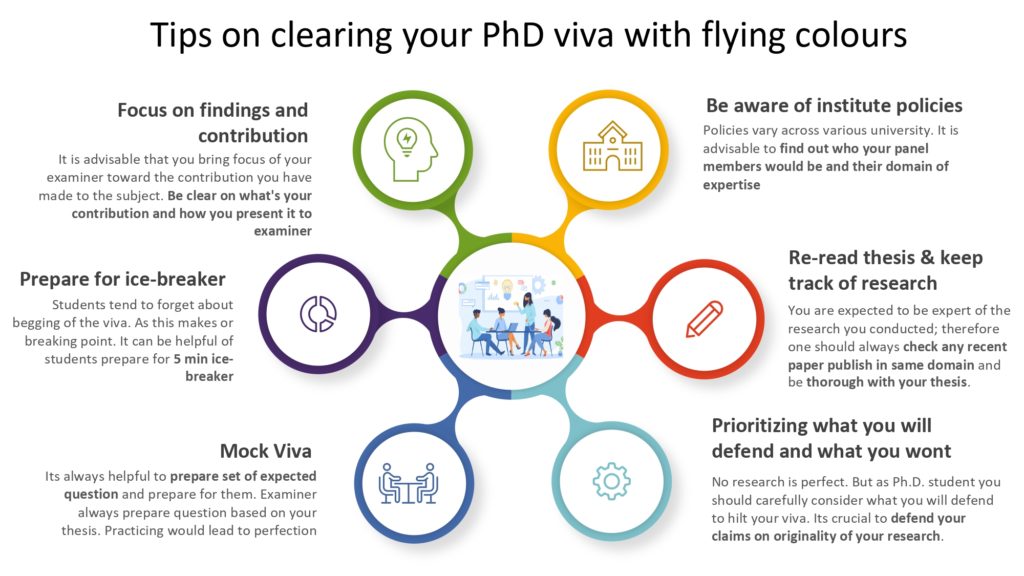 For brochure with pricing details, please mention your contact details below and we will get back to you. Alternatively, you can also call us at +91-8130872449. If that number is busy, you can reach us at 91-9160743777 [Hyderabad] or +91-7411845787 [Bangalore]