We are the
No 1 PhD Consultancy
in South India
We help
20+ students register for PhD every month
Tips on writing a statement of purpose for your Ph.D. Thesis
Here are 6 tips on writing a statement of purpose for your Ph.D. Thesis
Display your curiosity
One the trait of researcher or a potential Ph.D. student is their curiosity . While writing your Sop display your intellectual curiosity. Emphasise what ideas and questions drives your curiosity. Give examples accordingly
Do not focus on teaching
It can be detrimental if your primary focus of Ph.D. is teaching at university. Ph.D. is about training yourself to do high quality research. Faculty usually look for candidates who are passionate about research and focus towards it
Highlight research focus & skill sets
Its advisable to highlight your skillset and any relevant experience you have. This helps admissions committee to understand your interests. You can as well include recognition you received.
Show how you fit
Tell university why you think you are proper fin for their program., what differentiates you from others and what you bring to the table. Refer to university website to demonstrate knowledge of the program.
Focus on Why
Address the question on why are you keen on pursuing Ph.D. Why do you consider certain field to be your domain of interest. Why are looking forward to study at particular university
Introduce yourself
The whole idea of Sop is to help admission committee know about yourself. Its an opportunity where you can showcase your intellect. Do not focus on boasting universities and their faculty.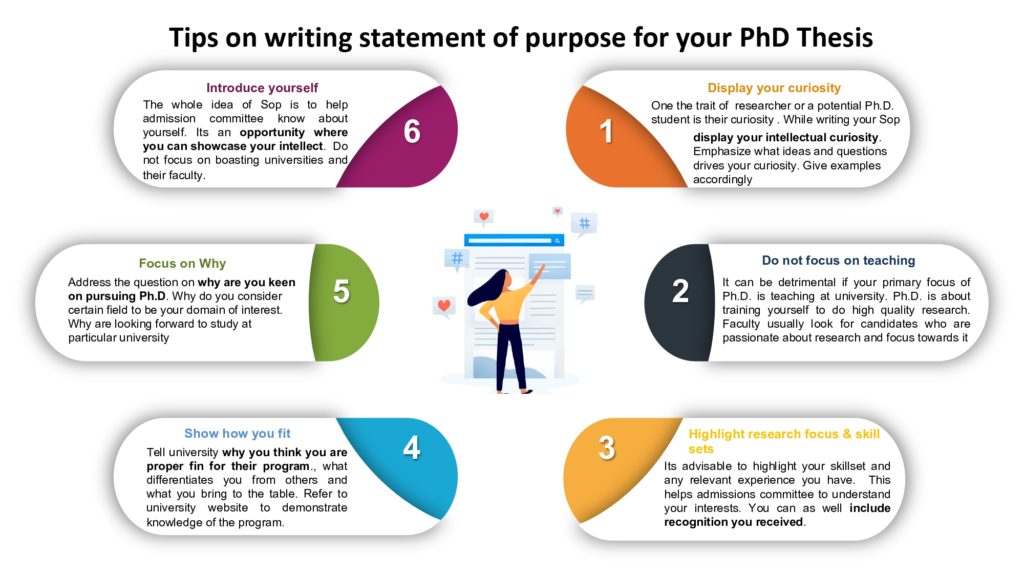 For brochure with pricing details, please mention your contact details below and we will get back to you. Alternatively, you can also call us at +91-8130872449. If that number is busy, you can reach us at 91-9160743777 [Hyderabad] or +91-7411845787 [Bangalore]